A.G. Russell Sting
Details
Say "A.G. Russell," and you have to immediately say "first," because this living legend was one of the inventors of the modern knife industry. But despite all his awards and achievements, A.G. is first of all a knifemaker. The CRKT production Sting™, complete with a custom Cordura®/Zytel® sheath, is a multipurpose one-piece utility knife that is just about indestructible. Hot forging is the reason the Sting is so tough. It begins life as an ordinary blank of 1050 carbon steel, similar to the alloy used in traditional Samurai swords, which is first hot forged and then precision ground into final shape. We apply a black non-reflective powder coat finish to resist corrosion. The spear point blade features two Razor-Sharp cutting edges. The integral handle is contoured to fit the bare or gloved hand nicely and provides heft and balance, with thumb detents for grip. A large lanyard hole is provided, allowing the use of a wrist lanyard, or carry as a neck knife. Like A.G. Russell himself, the Sting is a tough character that has earned its respect.
Total lenght: 6,85"
Blade: 3,2"
Weight 3,9 ounces
Steel: carbon 1055 \ HRC-52-55
Sheath
Material: Zytel/Cordura
Weight: 2,4 ounces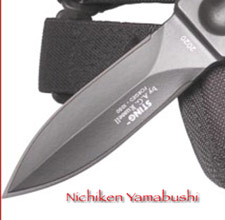 Brands:
CRKT
We are a dealer of CRKT. So anything made by them and not found on this web site can be ordered for you.
Category