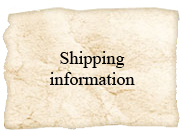 ;
ESSENTIAL NOTE: It is possible that the email confirming your account arrives in your spam box. Especially for hotmail addresses. Please go check if this is the case, and validate your account as soon as possible.
IMPORTANT: If your email box is Hotmail, Yahoo, Gmail, we ask you to add our address katanaplus@gmail.com well in your online address book . This will prevent the filter from your email service interprets our emails as spam.
IMPORTANT : We only sell in canada.
Inscription