Paul Chen Wind and Thunder Wakizashi
Details
Paul Chen Wind and Thunder Wakizashi: battle ready Japanese sword.
The Wind and Thunder Wakizashi features a Raiden tsuba, crafted in black iron, and the fuchi and kashira feature a Tomoe motif.
The tsuka is wrapped in genuine same (ray skin) and the tsuka-ito is premium Japanese black cotton. The saya is finished in a traditional black laquer with a black cotton sageo.
Key Features:
Thick & Heavy Blade
Hand-forged High Carbon Steel Blade
Great for Tameshigiri
Specifications
Overall length: 26 1/2 inches
Blade length: 19 3/4 inches
Handle length: 6 1/2 inches
Sori: 1/2 inche
Blade steel: High carbon T10 steel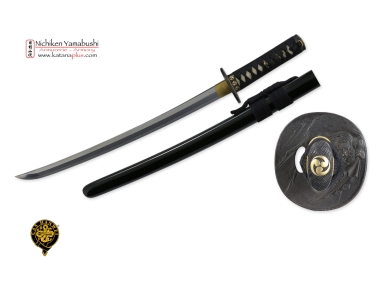 Price list USA: 700.00 $USD
30% discount applied
to this item when it will
be added to cart.

700.00$
Our price
Brands:
Hanwei - Paul Chen
Paul Chen Hanwei Forges /CAS Iberia We are a dealer of Paul Chen Hanwei CAS Iberio forges. So anything made by them and not found on this web site can be ordered for you
Category